Return
REF. 3405 - La Segarra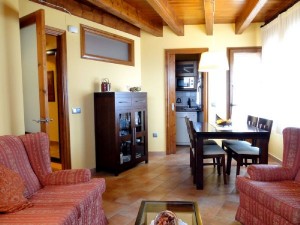 ref:3405
4-4













Type
Apartment and Townhouse
Location
- Lleida - La Segarra
Prices
from 25,0€

Between stone walls
PRICES (4 PEOPLE)
Weekend (all year): 200 €
Week (all year): 500 €

Check prices for Christmas, New Year's Eve and other bank holidays

ACTIVITIES:
Close to the rural house you can visit many places of interest. Small towns, museums, churches, monasteries and natural areas. You will see vineyards, olive groves and grain fields. Know the people, their traditions, their work and their culture.
• Castles route of Lleida: A journey to the past. Guided visits to castles the castles of Montsonis, Florejacs, Pallargues, Montclar d'Urgell...
• Cultural Activities: Monastery of San Ramon (called the Escorial of the Segarra), Castle of Manreana, monumental city of Cervera
• Cistercian Route: Monastery of Vallbona de les Monges, Poblet and Santes Creus
• Family Excursions in the close area: Ivars d'Urgell, walks trough La Segarra...
• Golf nearby
• Hiking
• Street Theatre Fair in Tàrrega (September)
• Roman Market in Guissona (August)
Equipment:
AACC, Pets allowed, Barbecue, Heating, Kitchen, Fireplace, Washing machine, Dishwasher, Home linen, Games room, TV, Terrace and Wifi
The apartment is located in a house dating from 1668 and located in the old town. This house is divided into two, 4 people each, and their characteristics have been described as 'The Stone' to their original stone walls of the house, and 'El Mirador' for excellent views.
The apartment has two bedrooms, one double and one double, a bathroom, living room with fireplace, kitchen and a small terrace.
It is fully equipped with all kitchen utensils, air conditioning, oven, TV, fridge freezer, dishwasher, microwave, washer and dryer Community and electric barbecue on the terrace.
HUTL-000 159
You may also be interested: