Return
Visit to Florejacs Castle - Groups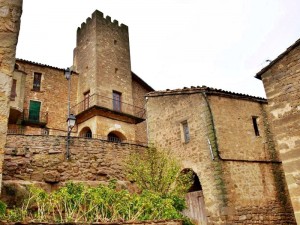 ref:3396
10-255

Location
Lleida Segarra - Florejacs
Prices
from 4,8€

Print gift
Guardian of the closed town
The castle and the houses built along the Florejacs village's ancient rampart features a magnificent medieval setting and let us feel the peace and beauty of the surrounding countryside.
The castle of Florejacs preserves the ancient square watchtower as well as the rest of the fortifications, situated in a dominant position from which we have a fascinating view of the landscape and the villages. From the entrance door we can have a glimpse of the beauty and well conserved architecture inside the castle: the cardinal chamber , the Sanllehi room -together with his possessions left in inheritance – the large salon, the armoury , without leaving out the wine cellar, the prison, the secret passage...
GUIDED VISITS:
The first documents relative to the castle date back to the XI century.
The medieval castle was built up by Arnau Mir de Tost on an ancient fortress: the castle has always remained property of the same family, its current owner is now Rosario Balanzó de Febrer.
The castle is composed of a seigniorial mansion of the XVI century wall to wall with the ancient rampart of the village and with a beautiful medieval tower. On the inside, and considering its decoration and furniture it is like a real museum on three levels: the ground floor with the stables, the wine cellar, the dungeon and other rooms.. The noble floor with a salon, a beautiful bedroom and the dining room and the second floor with several bedrooms .
For curious visitors: the collection room which contains a series of objects from past times. The secret passage access and the armoury.
Timetable - Groups:
Guided tours every day of the week and times to be arranged. By reservation.
Prices include guide service.
At the time of booking remember to specify your time of visit.
You may also be interested: