Return
Rural house - Ref. 3377 - Huesca Pyrenees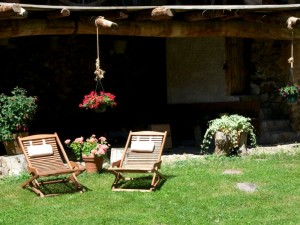 ref:3377
2-4











Type
Apartment and Rural house
Location
Huesca Ribagorça - Aragó - Pirineu de Huesca
Prices
from 30,0€

From Pyrenean valleys (Aran Boi, Benasque and Isábena)
Apartment in an old sixteenth-century fortified house in a small village situated at 1200 meters between the Aran Valley, and Isábena Benasque in the Pyrenees of Huesca.
The apartment has a large room that was formerly used as "Bedroom" or master bedroom of the house and it keeps your windows characteristic "festejadors" overlooking the square. There is also a shower room and fully equipped kitchen with all the utensils, washing machine, oven, microwave, refrigerator, toaster and blender.

The room is double and can add up to two extra beds if they are children.
On the outside of the house where we were before of old agricultural labor if performed and has now become commonly garden with barbecue and garden furniture.
In the house there is another apartment for 4 people which was formerly the old woodwork and ironwork is now restored as a double room.
In the village there are swimming pools, 100 meters. the house in the summer are going to claim to be soaked.
Equipment:
Pets allowed, Barbecue, Heating, Kitchen, Garden, Pool, Washing machine, Dishwasher, Home linen, TV and Wifi
- Aiguestortes National Park and Lake St. Maurice
- National Park Posets Maladeta (peak Aneto)
- Upcoming Ski Resorts
Boí-Taüll - 30 min.
Cerler - 45 min.
Baqueira-Beret - 45 min.
- Adventure sports: canyoning, rafting, climbing, paragliding, mountain biking, ...
- Hunting and fishing
- Hipica
- Romanesque Vall de Boi
You may also be interested: