Return
Guided tour of the castle Montsonís - Groups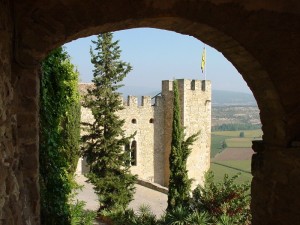 ref:3323
6-255

Location
Lleida Noguera - Montsonís
Prices
from 2,5€

Print gift
The domain of the valley of the Segre
The magnificent castle formed by the group of stone houses surrounding it retains all the splendor and elegance of the past and take us back to centuries.
The Montsonís Castle is a magnificent fortress built on the top of the quiet little village of Montsonís, surrounded by fertile land and wonderful views.
We highlight of the set, the superb homage tower, the beautiful Gothic window on the main façade, its large stately buildings: hall of ancestors, dining room of Lords, ... and its best-kept secrets: no room door, prison wine, hallway, ...
Castle Montsonís besides being a pioneer in opening their doors to the public, is the headquarters of the Foundation "Cultural Castles of Catalonia", a body that promotes these ancient fortresses in order to protect this important architectural heritage form Catalan castles.
VISITES GUIADES:
The Montsonís Castle was built in 1024 by order of the Count of Urgell, Armengol II. It was for centuries at the hands of various lineages to succeed, always-on from parents to children-Charles de Montoliu, Baron of Albi, thirty Lord Montsonís and current owner of the castle.
The majestic building are: the magnificent façade, dominated by the tower of homage, the private chapel, the kitchen benches banks, the bakery, the prison, the cellar, the room reserved for pilgrims, the room of weapons, shields room and other rooms where exposed carpets and memories of other times.
By curious visitors: the magnificent views from the keep, the prison chains for prisoners, escaped from the room, without window with door, the secret passage in the cellar to escape in case of emergency .
Other activities:
Workshops for children ("The Medieval World", "The World of the Troubadours," "Medieval Clothing", "Medieval Kitchen," "The mark of Islam")
Celebrations
Presentations
Courses and Seminars
Reunions
Reports
Ads
Shootings
It is also possible to stay in the immediate surroundings of the castle.
Buying local products (oils, wines, ...) and in Memories "Shop Montsonís" .
Schedules - Groups:
Guided tours every day of the week and times to be arranged. Advanced booking.
Prices include guide service.
At the time of his book reminds us define the time of his visit.
You may also be interested: