Return
REF. 1807 - SOLSONÈS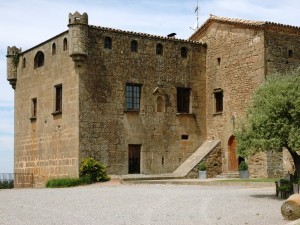 ref:1807
15-17















Type
Detached house, Masia, Castle and Rural house
Prices
from 30,0€

Rural tourism in a historic building
PRICES (15-17 PEOPLE)
Weekend (January to May): 900 €
Weekend (rest of the year): 1100 €
Week (July, August and Christmas): 2440 €
Week (June and September): 2240 €
Week (rest of the year): 2100 €
Possibility of two additional beds: No added cost
ACTIVITIES:
•
Visit Solsona Old Town: Museums, cathedral, sanctuary of the Miracle...
• Cardona: The castle and the salt mines
• Ardèvol and Tower of Vallferosa

• Stone Dolmen

• Pine Sanctuary

• Bicycle tours, hiking-trekking, horse riding...
Equipment:
Pets allowed, Barbecue, Heating, Kitchen, Garden, Fireplace, Pool, Washing machine, Dishwasher, Home linen, Games room, TV, Terrace, Wifi and Covered parking
This castle, located in the town of Ardevol, was cradle of great Carlist soldiers (S. XIII, XVII and XVIII). It is a fortress in the countryside, surrounded by silence and tranquility, with enough space to relax both inside the house and its surroundings and also live near the countryside and the rooms where they were developed much of the pages of our history. In front of the house is preserved the chapel of the fifteenth century and is dedicated to St. Francis of Assis.
This accommodation is distributed as follows:
On the ground floor there are the entrance and two rooms where there is the ping-pong, table football and billiards. Up to the stone stairs, on the right, there is a terrace with spectacular views of Solsona equipped with tables and chairs. We entered the house where there are a large living room with sofas and TV, a large dining room with a long table and chairs, the fireplace and TV, two double rooms (shared bathroom with shower), another double room with possibility to become triple, the kitchen fully equipped (fridge, freezer, dishwasher...) and a large bathroom with shower, washing machine, two sinks and washing hands. On the second floor, you will find one triple room with bathroom exclusive in front of, one double room with bathroom inside, one double room with bathroom inside and one room with two beds with exclusive bathroom before. All bathrooms are with shower.
This house offers a large outdoor area where we find:
- Pool area(10 * 4) fully fenced with gardens, hammocks, garden furniture and bathroom.
- 2 covered spaces to leave cars in one of them there is a sand ideal for children.
- The old barn area where there is a barbecue with a kitchen assistant and refrigerator. It is equipped with tables and chairs for all occupants of the house. Firewood available.
Dogs allowed (provided upon request). There may be a supplement.

PCC-000336
You may also be interested: