Return
Muntanya - Artesa de Segre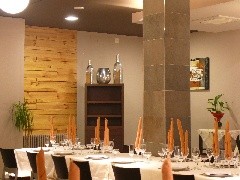 ref:1177
The traditional
Location:
Lleida Noguera - Artesa de Segre
Contact
Print gift

Pensions Mountain Restaurant is located in Artesa de Segre (Artesa de Segre - Noguera) characterizes a traditional Catalan cuisine. & Nbsp;
Traditional, home and market .
Restaurant spacious and refurbished.
Menu daily service menu to menu menus for groups and celebrations.