Return
REF. 1147 - La Noguera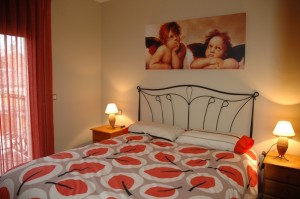 ref:1147
2-4







Location
Lleida Noguera - Tiurana
Prices
from 25,0€

The resurgence of a town
PRICES (2 PEOPLE)
Weekend (all year): 140 €
Week (all year): 450 €

Possibility of 2 additional beds: 13 € per person


NEARBY SKI SLOPES:
• Port del Comte (50 km)
• Andorra (70 km)

ACTIVITIES:
• Guided tours of the village and heritage tourism Tiurana
• It has its own airfield
• Segre River Park in Ponts
• Adventure sports: canyoning, canoeing...
• Castles Route: guided visits to castles of Montsonís, Montclar, Florejacs, Pallargues, Vicfred, Mur and Arbeca
• Hiking
• Romanesque Route: 24 churches throughout the area
• Proximity to Andorra where you can enjoy the activities offered by this small country
• Bathe in the River
• Via Ferrata d Oliana: a famous road for the views over the marsh
• Crow Route in Peramola
• Fishing
Equipment:
Pets allowed, Heating, Kitchen, Dishwasher, Home linen, TV and Wifi
Accommodation located Tiurana a people risen from the waters, exclusively for pedestrians and located in a beautiful enclave with fantastic views across the reservoir and the area of ​​the Pyrenees.
The accommodation combines rustic comfort with all new furnishings and lots of natural light in all the rooms as all are exterior facing either toward the swamp or the woods behind it. It is distributed in a room room with balcony, bathroom, dining room and kitchen with all the utensils. It can expand its capacity in two more places using the sofa bed is in the dining room.

You can use free facilities of the sports Tiurana: swimming pool with picnic recreational area with swings for children, table Ping-pong, football, tennis Volleyball and Badminton.

HUTL - 000087
You may also be interested: