Return
REF. 1094 - Pyrenees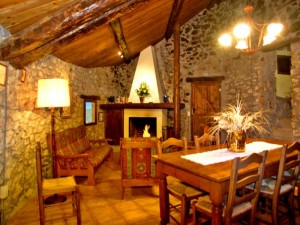 ref:1141
6-8












Type
Masia and Rural house
Location
Lleida Alt Urgell - Lleida - Alt Urgell
Prices
from 33,0€

Mas de la Vall
PRICES (6-8 PEOPLE)
Weekend (all year): 394 €
Additional day: 111 €
Additional day in bank holliday: 195 €
Holy Week - New Year's Eve (4 nights): 880€
Christmas (4 nights): 851€
HS Week: 1.449 € (30 de julio - 27 Agosto)
MS1 Week: 982 € (18 june tol 9 july)
MS2 Week: 1.203 € (9 to 30 of july)
LS Week: 877 € (Rest of the year)
SKI SLOPES:
• Andorra (50 km)
• Sant Joan de l'Erm (55 km)
• Port del Comte (50 km)
• Tuixent-Lavansa (60 km)
ACTIVITIES:
• Bathing in the pools crystal clear waters of streams
• Area Romanesque route: Coll de Nargó Gavarra Montanisell, the Meadows and other small villages
• Visit the historic center of La Seu d'Urgell : Cathedral and museum
tours and hiking
• Natural Park and Nature Reserve Boumort Caddy
• Skiing in Andorra: This small country offers many ski
• Markets, fairs and shopping: La Seu d'Urgell, Andorra , Oliana ...
• Bicycle (there are several marked trails)
• Best all-terrain
• Museum of dinosaurs in Coll de Nargó
• Riding (25 minutes)
• Olympic Park in La Seu d'Urgell: Rafting, Kayaking. .. (25 minutes)
• School and rental of 4x4 (20 minutes)
• Sports Park Segre canoeing, rafting, boating ...
Equipment:
Pets allowed, Barbecue, Heating, Kitchen, Garden, Fireplace, Pool, Washing machine, Dishwasher, Home linen, TV and Wifi
The house has its origins in the fifteenth century and was restored a few years ago maintaining its initial structure. Right next to the building there is a swimming pool with all the furniture corresponding is located on a terraced terrain.
Located at 1200 meters altitude, in a privileged environment along the valleys and mountains of the Pyrenees, in the region Alt Urgell.
On the ground floor there is a large space with various facilities. Access to the first floor is by stairs or by a stone courtyard that is in the back. Inside there is a living room with kitchen , the dining room with fireplace and a double room with bathroom inside. For stone stairs located on one side of the living room you get to the second floor which has two h rooms , a bathroom and a hallway where broad access to another patio.
The two extra seats to reach capacity of 8 people are children.

PL - 000223
You may also be interested: