Return
REF. 1094 - PYRENEES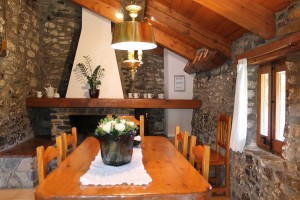 ref:1140
6-8












Type
Detached house and Rural house
Location
Lleida Alt Urgell - Coll de Nargó
Prices
from 24,0€

Mountain house with pool
PRICES (6 TO 8 PEOPLE)
Weekend (all year): 363 €
Additional day: 100 €
Additional day bridge: 189 €
Easter - New Years'Eve (4 nights): 861 €
Christmas (4 nights):788 €
HS Week: 1.145 € (29/07-26/08)
MS1 Week:: 935 € (08/07 - 29/07)
MS2 Week: 819 € (17/06 - 08/07, 26/8 - 16/09)
LS Week: 777 € (Other year)
NEARBY SKI SLOPES:
• Andorra (50 km)
• Sant Joan de l'Erm (55 km)
• Port del Comte (50 km)
• Tuixent-Lavansa (60 km)
ACTIVITIES:
• Bathing in the pools crystal clear waters of streams of the area
• Area Romanesque route: Coll de Nargó Gavarra Montanisell, grasslands and other small villages
• Visit the historic center of La Seu d'Urgell : its cathedral and museum
• Tours and hiking
• Natural Park and Nature Reserve Boumort Caddy
• Skiing in Andorra: This small country offers many ski
• Markets, fairs and shopping: La Seu d ' Urgell, Andorra, Oliana ...
• Bicycle (there are several marked trails)
• Best all-terrain
• Museum of dinosaurs in Coll de Nargó
• Riding (25 minutes)
• Olympic Park in La Seu d'Urgell: Rafting, kayaking ... (25 minutes)
• School and rental of 4x4 (20 minutes)
• Sports Park Segre canoeing, rafting, boating ...
Equipment:
Pets allowed, Barbecue, Heating, Kitchen, Garden, Fireplace, Pool, Washing machine, Dishwasher, Home linen, TV and Wifi
House situated at an altitude of about 1200 m in a privileged environment along the valleys and mountains of the Pyrenees, in the region of Alt Urgell. Renovated barn has a large green area with great views • Lenses close to the river valley, a place to bathe in nature. Coll de la Mola is a terraced house The Barn, although the entrances, patios, barbecues and outdoor spaces are full
The house is three floors with traditional wooden ceilings typical of a farmhouse mountain. The ground floor of the former stable home is the main entrance of the house where they kept the washing machine and all tools and equipment necessary to enjoy outside the home. On the first floor there is one double room with bathroom, a living room with sofas, TV, DVD and stereo, a balcony overlooking the valley and a kitchen - dining room with fireplace equipped with oven and dishwasher. The second floor has two double rooms and one bathroom. You can add two extra beds for children.
Outside the house, at the back, there is the pool with comfortable loungers shared with another house.

PL - 000148
You may also be interested: