Return
REF. 1094 - PYRENEES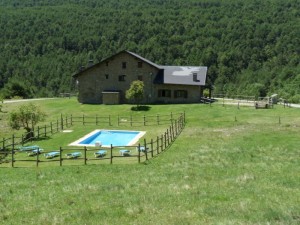 ref:1139
6-8












Location
Lleida Alt Urgell - Coll de Nargó
Prices
from 24,0€

Mountain house with pool
PRICES (6 TO 8 PEOPLE)
Weekend (all year): 363 €
Additional day: 100 €
Additional day bridge: 189 €
Easter - New Years'Eve (4 nights): 861 €
Christmas (4 nights):788 €
HS Week: 1.145 € (29/07-26/08)
MS1 Week:: 935 € (08/07 - 29/07)
MS2 Week: 830 € (17/06 - 08/07, 26/8 - 16/09)
LS Week: 777 € (Other year)
NEARBY SKI SLOPES:
• Andorra (50 km)
• Sant Joan de l'Erm (55 km)
• Port del Comte (50 km)
• Tuixent-Lavansa (60 km)
ACTIVITIES:
• Bathing in the pools crystal clear waters of streams
• Area Romanesque route: Coll de Nargó Gavarra Montanisell, grasslands and other small villages
• Visit the historic center of La Seu d'Urgell : its cathedral and museum
• Tours and hiking
• Natural Park and Nature Reserve Boumort Caddy
• Skiing in Andorra: This small country offers many ski
• Markets, fairs and shopping: La Seu d ' Urgell, Andorra, Oliana ...
• Bicycle (there are several marked trails)
• Best all-terrain
• Museum of dinosaurs in Coll de Nargó
• Riding (25 minutes)
• Olympic Park in La Seu d'Urgell: Rafting, kayaking ... (25 minutes)
• School and rental of 4x4 (20 minutes)
• Sports Park Segre canoeing, rafting, boating ...
Equipment:
Pets allowed, Barbecue, Heating, Kitchen, Garden, Fireplace, Pool, Washing machine, Dishwasher, Home linen, TV and Wifi
House located in a privileged area next to the mountains and valleys of the Pyrenees. Renovated barn has a large green area with great views • Lenses close to the river valley, a place to bathe in nature.
The house is on two floors very spacious. Access to the ground floor where there are two bedrooms with bathrooms, a kitchen and a storeroom full for the washing machine. From this floor out of wooden stairs leading to the first floor where there is a large open living room with TV, DVD and stereo and a double room with bath. You can add two extra beds for children .
Outside you will find the large pool shared with the house's barn, as are adificis adosats although the entrances, patios, barbecues and other areas are completely independent.
PL - 000211
You may also be interested: