Return
REF. 1101 - Barcelona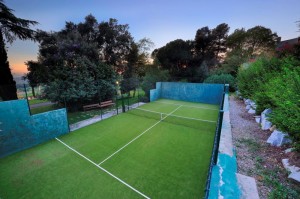 ref:1101
26-28















Type
Masia and Rural house
Location
Barcelona Vallès Oriental
Prices
from 30,0€

Paddle and relax at Montseny
PRICES (26 PEOPLE)
Weekend January and February: 25 €
Weekend Rest of the year: 29 €
Week (3 firsts August): 35 €
Week (3 lasts July): 33 €
Week (rest of the year): 29 €

Additional bed: 15.00 € per persona i nit
Check prices for bank holidays and others.

ACTIVITIES:
• Trekking Montseny Natural Park declared a biosphere reserve by UNESCO
• Located 25km of beaches
• Located 25km from the Montmelo circuit ia 10 km of the Rock-Village
• Monastery of Sant Miquel del Fai
• Romanesque route: La Doma, Sta. Maria Way, Mill Blancafort and Fortress Rosanes
• Summit Eagles in Sant Feliu de Codines
• Natural Park of San Lorenzo del Munt
• Barcelona city, well connected
Equipment:
Barbecue, Heating, Kitchen, Garden, Fireplace, Pool, Washing machine, Dishwasher, Home linen, Games room, TV, Terrace, Wifi, Tennis / Paddle and Celebrations Hall
House Catalan house of 1100m2 surrounded by 7000m2 of gardens inspired by the English design with different varieties of plants and trees, swimming pool, changing rooms and bathrooms, garden furniture and paddle tennis court for exclusive use.
Ideal for stays with friends or family well connected both with own vehicle or public transport, with Barcelona.
The house is three floors that give host 26 people with the possibility of adding two extra beds and reach a maximum of 28 seats. The door to enter the ground floor leads to a large distributor from which access to the kitchen, dining room and main living area with fireplace. In addition, there is a twin bedroom and a double bedroom each with its own bathroom.
On the first floor there is one twin bedroom, a double bedroom and other double with shared bathroom, a living room and other twin bedroom and a double bedroom with shared bath. This plant can expand capacity with 2 extra places more, turning doubles into triples.
Finally, on the top floor there are two double bedrooms with bathroom in each, a twin bedroom and a double bedroom with shared bathroom, a living room and an other twin bedroom and a double bedroom with shared bath.
The house also has several complementary areas: office, games room (ping-pong, billiards ...), Hall (next to the house overlooking the garden ideal for moments of conversation and reading), barbecue area with porch, kids area, football 7 field and pétanque area...
It is equipped with sheets and towels in the rooms having a washer-dryer; microwave, refrigerator, dishwasher and all the necessary equipment in the kitchen; LCD TV and central heating; And all the necessary equipment in the dining room.
The house has of different scenaries for weedings and other celebrations and business meetings. It has a capacity of 150 people.


HUTB-007193
You may also be interested: