Return
REF. 1093 - Baronia de Rialb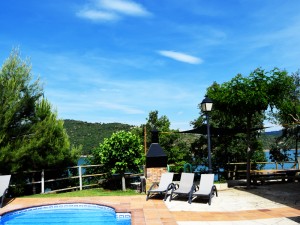 ref:1093
6-6












Prices
from 25,0€

Close to the reservoir
PRICES (8 PEOPLE)
Weekend (all year): 535 €
A week (low season): 1460€

A week (high season): 1600 €

ACTIVITIES:
• Swimming in the lake, direct access from home
• floating platform available to customers
• Segre River Park Bridges
• Adventure Sports: Canyoning, canoeing, ...
• Castles Route: guided visits to castles Montsonís, Florejacs and les Sitges
• Hiking
• Romanesque Route 24 churches throughout the area
• Proximity to Andorra can enjoy the activities offered by this small country
• Bathe in the River
• Via Ferrata d Oliana: a road famous for the views over the marsh
• Route Crow Peramola
Equipment:
AACC, Barbecue, Heating, Kitchen, Garden, Fireplace, Pool, Washing machine, Home linen, TV, Terrace and Wifi
Accommodation located in the middle of the course Segre, belonging to the Walnut and is close to Bridges. Located in a privileged setting with magnificent views over the reservoir.
You enter the house on the street, finding a large kitchen-dining-living room with fireplace and a bathroom.
Stairs lead to the first floor where there are two bedrooms, a room with two beds and a bathroom.
Outside the house there is the garden with swimming pool (salt treatment), lawn, barbecue and a large porch where you can enjoy magnificent sunsets over the reservoir.
HUTL 000091
CANCELLATION POLICY
Cancellation of the reservation will result in the following amounts being withheld:
€ 50 for management fees 24 hours after confirmation.
30% of the total reservation when the cancellation is more than 30 days before the date of entry.
100% of the total reservation when the cancellation is made less than 30 days from the date of entry.
The above penalties do not apply when the cancellation occurs due to force majeure, duly proven.
You may also be interested: