Return
The doctor - Montclar d'Urgell (Urgell)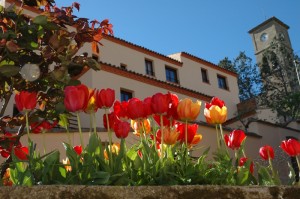 ref:1092
9-9







Location
Lleida Urgell - Lleida - L'Urgell - Montclar
Prices
from 21,0€

A shelter of the wall
RATES (9 people)
Weekend (all year): 400 €
TA Week (August and the rest of the year): €
TB Week (May - June - July - September): €
Possibility of an extra bed: € 13 per person
Montclar is situated between the towns of Agramunt and Artesa de Segre, in the region of Urgell, province of Lleida. It is a quiet and peaceful village, immersed in a natural and historical regions of Catalonia's most important.
Just entering Cal Metge you will find the entrance on the ground floor, a bathroom and stairs that lead to the upper floors. From this space we enter a large area occupied by the kitchen, the dining room equipped with a fireplace and a single room. From the living room you come to a large terrace which has stairs that lead to the patio. The yard has a barbecue, wood for the home.
Returning to the living room, go up to the first floor where there is, on the right, a bedroom with bathroom and a loft equipped with a sofa bed for one. This floor has two double bedrooms that share a bathroom. The second floor is occupied by a double room with bathroom. From whole house enjoys exceptional views over the surrounding Montclar.
• It is equipped with sheets and towels, blankets, central heating, dishwasher, microwave


Equipment:
Barbecue, Heating, Kitchen, Fireplace, Dishwasher, Home linen and Terrace
ACTIVITIES:
• Route of Lleida Castles: visit to the Castles Montclar, Montsonís Pallargues Vicfred, Florejacs, Arbeca and Mur.
• Markets and Fairs Area: Agramunt (Fair nougat), Artesa de Segre (Melon Fair and slaughtering pork), Vilanova de Meià (partridge Fair) ...
• Excursions 4x4
• Birding. Montclar is a unique place to observe the migration of birds.
• Hiking and mountain biking
• Motorcycle Museum Bassella
• swimming pools Agramunt 9 km.
• Pitch & Putt in Bellpuig (35 km).
• Trekking to the Mu Gorge

HUTL-034955
CANCELLATION POLICY
Cancellation of the reservation will result in the following amounts being withheld:
€ 50 for management fees 24 hours after confirmation.
30% of the total reservation when the cancellation is more than 30 days before the date of entry.
100% of the total reservation when the cancellation is made less than 30 days from the date of entry.
The above penalties do not apply when the cancellation occurs due to force majeure, duly proven.
You may also be interested: