Return
CAL GRAVAT - Montsonís Medieval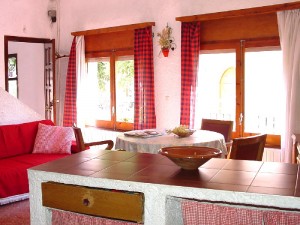 ref:1087
4-4







Location
Lleida Noguera - Montsonís
Prices
from 20,0€

A hideaway for rest
PRICES (4 PEOPLE)
Weekend: 165,50 €
Stay 1 night: 95 €
Week HS: 475 €
Week LS: 390 €
HS: August and rest of the year
LS: May, june, july and september
ACTIVITIES:
• It's essential visiting the Montsonís Castle
• Castles Route of Lleida: complete it visiting the castles of Montclar, Pallargues, Florejacs, Vicfred, Arbeca and Mur
• Ornithological outings
• Space to whatch close wildlife (amphibians, birds...)
• Scenic routes in the area: Vilanova Meià, Alòs de Balaguer...
• Walks around Montsonís and visit the Monastery of Salgar and its caves
• Enjoy the markets and fairs of the area: Fira del Meló i Matança del Porc in Artesa de Segre, Fira del Torró in Agramunt, Fira de la Perdiu in Vilanova de Meià...
• Medieval Route in Balaguer
• Visit the Iberian remains in Antona
• Trekking to the Mu Gorge
Equipment:
Pets allowed, Heating, Kitchen, Home linen, TV, Wifi and VISA-Mastercard
Cal Gravat is located in the medieval town of Montsonís, near from Artesa de Segre, in the region of La Noguera and sheltered by Montsec, in the Pre-pirieneus of Lleida.
The entrance to the house leads to the dining room and a large kitchen. Down beautiful stairs, we reach the small cellar, a cave dug into the rock that often ends up being the protagonist instead of games and adventures imagine children.
On the top floor, which is reached by walking up stairs that run along the rock carved in a space gained in the mountains, there are two rooms; one double and one with two single beds. On this floor there is also a bathroom.
It is equipped with sheets and towels, microwave, central heating and TV.
HUTL 000167
You may also be interested: