Return
CAL VALERI - Montsonís Medieval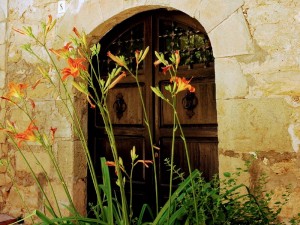 ref:1075
4-8







Type
Townhouse and Rural house
Location
Lleida Noguera - Lleida - Montsonis
Prices
from 18,0€

A room with history
PRICES (4 PEOPLE)
Weekend: 230 €
Stay 1 night: 135 €
Week TA: 605 €
Week TB: 532 €

HS: August and rest of the year
LS: May, june, july and september

Possibility of 3 additional beds: 13 € per person and night


ACTIVITIES:
• It's essential visiting the Montsonís Castle
• Castles Route of Lleida: complete it visiting the castles of Montclar, Pallargues, Florejacs, Vicfred, Arbeca and Mur
• Ornithological outings
• Space to whatch close wildlife (amphibians, birds...)
• Scenic routes in the area: Vilanova Meià, Alòs de Balaguer...
• Walks around Montsonís and visit the Monastery of Salgar and its caves
• Enjoy the markets and fairs of the area: Fira del Meló i Matança del Porc in Artesa de Segre, Fira del Torró in Agramunt, Fira de la Perdiu in Vilanova de Meià...
• Medieval Route in Balaguer
• Visit the Iberian remains in Antona
• Trekking to the Mu Gorge
Equipment:
Heating, Kitchen, Fireplace, Dishwasher, Home linen, TV and VISA-Mastercard
House located in the charming village of Montsonís, quiet little medieval village dominated by its castle -it can visit me, and exceptional views of the Segre Valley and the Sierra Montsec. The restoration of the house has tried to keep up the old structure.
Formerly, it was the Town Hall (Ayuntamiento) in the village of Montsonís. It has two floors: upstairs there are two bedrooms with bathroom that has the house. And in the central plant at the foot of Main Street, we find the hall, kitchen and living room with fireplace and a bathroom.
The house can expand its capacity up to 8 people, adding an extra bed in every room and sofa bed in the living room.
You can also expand capacity by combining the stay with Cal Valeriet- Ref. 1107
Reservation required:
Possibility to order breakfast, lunch and / or dinner. It can be consumed in space "La Botiga de Montsonís" or we bring them to the house.
PL-000199
You may also be interested: