Return
RURAL Santa Maria de Besora (Barcelona) - REF. 1070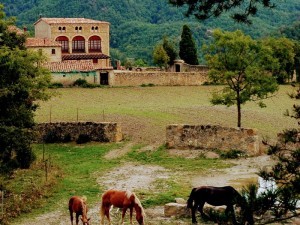 ref:1070
12-16










Type
Detached house, Masia and Rural house
Location
Barcelona Osona - Barcelona - Vall del Bisaura
Prices
from 15,0€

The viewpoint of Bisaura
PRICES (12 PEOPLE)
Weekend: 640 €
Week HS: 1624 € (weekends and rest of the year)
Week LS: 1407 € (January to September)
Possibility of extra bed (maximum capacity of 16 people): 13 € per person.
ACTIVITIES:
• Ski resorts nearby: Vall de Núria (52 km), Masella and La Molina (65 km)
• Sightseeing: Monastery of Sant Pere de Casserres, Besora Castle, Castle Park County Montesquieu, Ripoll, historical centre of Vic...
• Charming villages nearby: Vidrà (famous for its springs, waterfalls, rivers and streams), Sant Quirze, Santa Maria de Besora...
• Walking from the house in full contact with nature
Equipment:
Pets allowed, Barbecue, Heating, Kitchen, Garden, Fireplace, Dishwasher, Home linen, Games room and TV
Splendid and comfortable Mas is located in the Valley of Bisaura (Barcelona). The house is located in the middle of pastures and forests of pine, beech and oaks. But this was restored preserving its original architecture, has large spaces: the era, the porch...inside a wide enclosed with a stone fence and gates trees.
The house is on two floors. The entrance to the house leads to a spacious dining-living room where you can access the kitchen where the fire. Also on the ground floor there are three bedrooms, one en suite, and a bathroom with shower. On the upper floor there are three bedrooms, a space that makes distributor and a large bathroom with bath (all rooms have a double bed and a twin).
There is also another lounge with enabled games, ping-pong ... for a good time. This can be accessed from outer space or from the same household.
Mas also has a room designated for weddings, communions and / or family celebrations offered part of the price of the house. Contact us for more information.

PCC-000827
You may also be interested: