Return
Rafting i / o of Descens Barrancs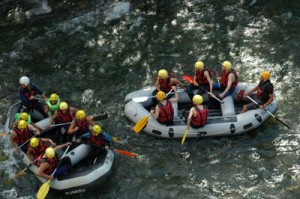 ref:1039
6-25


Location
Lleida Noguera - Ponts
Prices
from 69,0€

Print gift
Live the adventure
Come spend some time with us in our accommodation and enjoy adventure sports on offer.
Podeu practicar ràfting, és un lloc ideal per gaudir d'aquest esport amb els teus amics o la família. La baixada té una durada aproximada de 1h 30', durant la qual es podrà gaudir de la flora i fauna, dels ràpids de l'aigua i d'alguna que altra aturada per tal de banyar-se al riu.
També us oferim l'opció de practicar descens de barrancs. Aquesta activitat ens permet caminar per l'aigua, endinsar-nos en coves, fer salts des de les pedres, …i sobretot gaudir del paisatge que ens envolta. Tot això es pot practicar amb els amics, la família, els companys de feina,…
No hi ha ràpels, sempre hi ha aigua, tots els salts són optatius i tenen diferents durades, es pot dir que és una activitat que s'adapta al nivell del participant. Com tot barranc, té una aproximació a peu, en funció de si fem el curt o el més llarg.
Includes:
Guide and Accommodation
You may also be interested: