Return
REF. 7602 - Ponts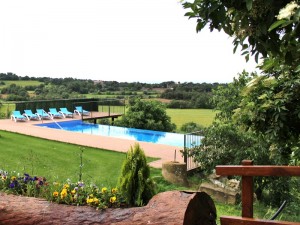 ref:7602
18-20















Type
Detached house, Masia and Rural house
Prices
from €

RATES (18-20 people)
Weekend: 900 €
Week HS: 3.500 €
Week LS: 2.000 €
Guarantee deposit: 300 €
UPCOMING EVENTS:
• Adventure sports: canyoning, canoeing ... the Rialb reservoir
• Castles Route: guided visits to castles Montsonís Montclar Florejacs, silos, and Pallargues Vicfred.
• Area Starlight Heritage Unesco area with special conditions for observing the night sky and stars.
• Bike tours in the area: The return to the Rialb reservoir, hiking trails Upcoming ...
• Hiking Area
• Romanesque route to the Barony of Rialb: 24 churches throughout the area
• Proximity Andorra can enjoy the activities offered by this small country
• Bathing in the river Alb
• Via ferrata Oliana: a road famous for the views over the marsh
• Route Crow Peramola
• Sport fishing
Equipment:
Adapted for people with disabilities, Pets allowed, Barbecue, Heating, Kitchen, Jacuzzi / Spa / Sauna, Garden, Fireplace, Pool, Washing machine, Dishwasher, Home linen, Games room, TV and Wifi
Large and magnificent farmhouse dating from the eleventh century, located near Ponts, in the region of La Noguera.
It has made rehabilitation for maximum comfort for visitors. The house can accommodate up to 18 people and sofa bed can reach a capacity of 20 seats.
The house is in a secluded and quiet where you can hear the sound of silence and enjoy views that range from Montserrat in the mountains of Prades and the Montsec as a backdrop. At night, the experience can be magical if you can see the stars with the help of binoculars.
The two-storey home offers 5 bedrooms and 2 quadruple (2 bunk beds + 1) . All with Smart TV . 5 of the rooms are ensuite ( bathroom ) and two share a bathroom. The house also offers a bathroom on the lower floor (adapted for people with reduced mobility). All bathrooms of the house are equipped with hairdryer and towels.
We find a spacious living room with sofas and a large table for 20 guests with fireplace , TV 60 ', DVD, BluRay and spectacular views of the pool area. Next to the dining room there is a fully equipped kitchen with dishwasher, 2 microwave, oven, refrigerator, freezer, coffee dolce gusto, Nespresso, toaster ...
At the top, there is another living room with T V sofas to spend a good time relaxing. In this room there is a fireplace.
Outside the property there is a large garden with a swimming pool with a glass wall, porch with barbecue and garden furniture.
Next to the house in several buildings there is a movie theater , a game room with billiards, table tennis, football, board games, and one with Jacuzzi.
PL - 000779
You may also be interested: