Return
CAL MARROSO - Montsonís Medieval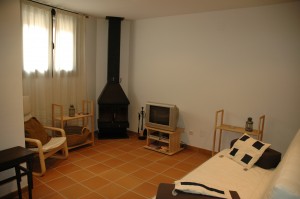 ref:5776
2-5









Type
Apartment and Rural house
Location
Lleida Noguera - Lleida - Montsonis
Prices
from 32,0€

A nest in the heights
PRICES (2 PEOPLE)
Weekend: 180 €
Stay 1 night: 104 €
Week : 477 €


Possibility of 4 additional beds: 13 € per person et night


ACTIVITIES:
• It's essential visiting the Montsonís Castle
• Castles Route of Lleida: complete it visiting the castles of Montclar, Pallargues, Florejacs, Vicfred, Arbeca and Mur
• Ornithological outings
• Space to whatch close wildlife (amphibians, birds...)
• Scenic routes in the area: Vilanova Meià, Alòs de Balaguer...
• Walks around Montsonís and visit the Monastery of Salgar and its caves
• Enjoy the markets and fairs of the area: Fira del Meló i Matança del Porc in Artesa de Segre, Fira del Torró in Agramunt, Fira de la Perdiu in Vilanova de Meià...
• Medieval Route in Balaguer
• Visit the Iberian remains in Antona
• Trekking to the Mu Gorge
Equipment:
Adapted for people with disabilities, Pets allowed, Kitchen, Fireplace, Home linen, TV, Terrace, Wifi and VISA-Mastercard
Cal Marroso, ideal for two people, is located in the medieval village of Montsonís in the Pre-Pyrenees area of Lleida under the Montsec massif, in the region of La Noguera.
The study, located near the Castle of Montsonís, is ideal for relaxing beside the fireplace. It offers optimal conditions for a peaceful and romantic rest, doing rural tourism and knowing the area. The study is distributed oin one floor with kitchen with oven, refrigerator, microwave and coffee maker. They have a double room with ceiling fan and bathroom. It can expand its capacity with three extra seats, sofa bed and extra single bed room.
• It is equipped with sheets and towels, microwave, TV and all necessary kitchenware
• Suitable for disabled
GETTING THERE:
By car: from Artesa de Segre 3 km paved road to Montsonís
By Train: nearest stations are in Balaguer and Tàrrega (25 km)
By Bus: regular Alsina Graells Artesa de Segre (3 km)
CANCELLATION POLICY
Cancellation of the reservation will result in the following amounts being withheld:
€ 50 for management fees 24 hours after confirmation.
30% of the total reservation when the cancellation is more than 30 days before the date of entry.
100% of the total reservation when the cancellation is made less than 30 days from the date of entry.
The above penalties do not apply when the cancellation occurs due to force majeure, duly proven.
You may also be interested: