Return
REF. 1094 - PYRENEES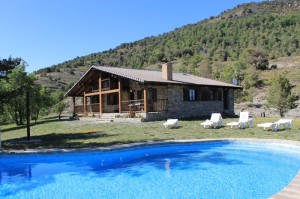 ref:1142
10-12













Location
Lleida Alt Urgell - Coll de Nargó
Prices
from 10,0€

Top of the Hill
RATES (10 to 12 people)
Weekend (all year): € 599
Additional day: € 137
Additional day bridge: € 279
Easter - New Year (4 nights): 1,313 €
Christmas (4 nights): 1.166 €
TA Week: 1,722 € (29/07-26/08)
TM1 Week: 1,612 € (8/07 - 29/07)
TM2 Week: 1,134 € (17/06 - 08/07, 26/08 - 16/09)
Week TB: 1,029€ (Rest of the year)
Nearby ski slopes:
• Andorra (50 km)
• Sant Joan de l'Erm (55 km)
• Port del Comte (50 km)
• Tuixent-Lavansa (60 km)
ACTIVITIES:
• Bathe in ponds crystal clear waters of the streams in the area
• Romanesque route in the area: Coll de Nargó, Gavarra Montanisell, the Meadows and other small villages
• Visit the historic center of la Seu d'Urgell, the cathedral and the museum
• Excursions and hiking Natural Park and Nature Park Boumort Caddy
• skiing in Andorra: This small country offers many ski
• Markets, fairs and shopping: La Seu d'Urgell, Andorra, Oliana .. .
• Guided bike (there are several marked trails)
• Routes with all-terrain
• Museum of dinosaurs in Coll de Nargó
• Riding (25 minutes)
• Olympic Park in La Seu d'Urgell: Rafting, kayaking ... ( 25 minutes)
• School and rental of 4x4 (20 minutes)
• Sports Park Segre as rafting, boating ...


Equipment:
Adapted for people with disabilities, Pets allowed, Barbecue, Heating, Kitchen, Garden, Fireplace, Pool, Washing machine, Dishwasher, Home linen, TV and Wifi
Magnificent mountain house located at 1200 meters altitude and located in a privileged area next to the valleys and mountains of Valldarques, in the region of Alt Urgell.
We enter the house through the porch of 50m2 adapted for the disabled. Downstairs we look only into a large room divided into two areas: the dining room with fireplace and next to the kitchen fully equipped (oven, dishwasher ...) On the same floor there are four double rooms bathroom interior . There is also a section with wardrobes, washer and dryer.
The first floor is accessed from the dining room by an original spiral staircase. There are a large living room with a large balcony overlooking the interior room (sofa, satellite TV and stereo). From the same lounge, we have access to an outdoor terrace, a double bedroom and a fifth bathroom. You can add two extra beds for children.
The exterior of the house is very big and we will find a swimming pool for exclusive use with comfortable lounge chairs for sunbathing and enjoy the views even relaxing.
HUTL - 000223
You may also be interested: